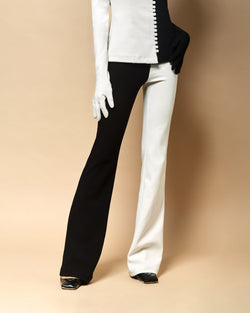 Josephine Flare Pant in Black and Champagne
The Josephine flare pant is an easy-to-wear, form-fitting piece, perfectly paired with the Josephine top. The pant sits high on the waist and has straight legs that flare out at the cuffs. The pant is cut from jersey crepe, providing supreme comfort and ease of movement. Shown in black and champagne.
Size Guide
Composition and Care
Material: Jersey Crepe (93% PL, 7% PU)
Care: Cold wash, air dry
Fit: Runs true to size. Model is 5'9," wearing size S.
Shipping
This item is ready to ship. Allow 24 hours for processing. Delivery options are available at check out. Delivery speed is calculated from the time the order is processed and shipped.